​Craps Strategy
Although Craps rules may have given you a false start, the Craps strategy is not that hard. We will provide you with some easy tactics to improve your play and increase the odds. In Craps, you have many different options and tactics. It may seem a blur at first. Which Craps strategy gives you the best odds, and which Craps tactics will only increase the casino's advantage? Once you get the hang of it, it's one the most exciting casino table games available!

Craps strategy
So, let's move on to your options. Have you read the Craps rules? Please do, this makes it easier to understand the following. Once you've done this, read on and find out which one of these possibilities works best. It's a lot of repetition, but that's how you get the hang of it.
Craps betting
| | |
| --- | --- |
| Passline bet | Passline chance bet |
| Don't Pass bet | Don't Pass chance bet |
| Come | Don't Come |
| Place bet | Place Loss |
| Buy bet | Lay bet |
| Big 6/8 | Hard way bet |
| Special bets | Field bet |
What does the casino advantage mean for the craps strategy
To know where are our opportunities lie, we first need to know where the casino's advantage lies. This is hard to pin down. In most casino games it only takes one turn or spin or move to find out if you have won or not. This isn't the case for Craps, because it often takes multiple rolls efore the outcome is clear. Rolling the dice once, or rolling the dice four times, has a big influence on the outcome. So, in order to find out which bet is the best, you need to take a look at the different bets for each roll. That is why it's best to always consider your cances per roll, to decide which is the best possible bet for you.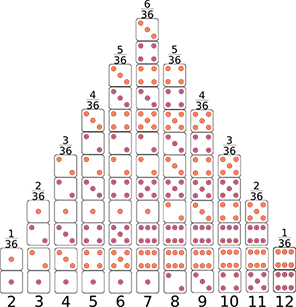 The odds of the craps rolls
First off, it is important to know what the odds are a certain number is rolled. A 12, for example, only has one possible combination of numbers (6+6), while a 7 has the most possible combinations. Check out this image with possible rolls and combinations. Now you see that a 7 is rolled one out of six times. This may help you understand the chances of winning in Craps a little bit better.
Betting chances Craps
Passline bet
The most important bet in craps. In short, it comes down to bet during the come-out roll on the passline. You win at 7 or 11, and you lose on 2, 3, or 12. On a place number (4,5,6,8,9,10) the number becomes the point. If a 7 is rolled first, you lose. If the point is rolled again, you win and you double your bet. The house's advantage in this bet is 0.42%. But be aware; after the come-out is thrown, you are still allowed to bet on a passline. However, we advise you no to do this, because, as you know by now, 7 is rolled more often than any other number.
Passline chance bet
A passline chance bet is a side bet on the original passline bet. It pays out in actual chances, which decreases the odds for the casino even further. In actual chances means that at a 4 or 10, the payout is 2:1. At a 5 or 9 as point-number, the payout is 3:2, and at 6 or 8 the payout is 6:5. Often there is a maximum of what you can bet on this side bet, usually three times the original bet. If you have placed a passline bet, it is best to always place a chance bet, after the point is established. The house's advantage in this bet is 0%.
Don't pass bet
The opposite of a passline bet, is also known as a 'wrong better', because you win if other players lose. The house's advantage is 0.40%, which is slightly better for you to bet on, than the often played passline bet. In a real casino, this bet is often not done, but in an online casino you don't have to mind the grim faces if you win and the others lose.
Don't Pass chance bet
This is a side bet on your prior don't pass bet, without the house's advantage. Always maximize this opportunity (usually three times the original bet) to decrease the house's advantage even further.
Come and Don't Come bet
Mathematically speaking, a come or don't come bet is the same as a passline, or don't passline bet. So the house's advantage is 0.42% and for a don't come bet it's 0.40%. The relevant side-bets, don't have a house advantage either.
Place bet
Comparable with a chance bet on a certain point number. The difference is that a point number doesn't have to be rolled first. The payout is also slightly less, which increases the house's advantage a little bit. At a 6 or 8, your payout is 7:6, at a 5 or 9 your payout is 7:5 and at a 4 or 10 the payout is 9:5. Therefore, the house's advantage for 6 and 8 is 0.46%, at 5 and 9 it's 1.11% and at 4 and 10 it's 1.67%.
Place Bets to Lose
The opposite of the place bet, discussed above. They win at a 7, and lose if the number you've bet on is rolled. The payout goes as follows; 4:5 at 6 and 8, 5:8 at 5 and 9, 5:11 at 4 and 10. The house's advantage is 0.56%, 0.69% and 0.76%, respectively.
Buy bet
This bet is actually similar to chance or place bets, but with different winning odds. The payout is according to the actual chances, but you will have to pay a 5% commission on your bet. For 6 and 8 the house's advantage is 0.69%, at 5 and 9 it's 0.56% and at 4 and 10 it's 0.42%. This means that for 6 and 8, the place bet is the better option, because the house's advantage is smaller. For other rolls, the buy bets are better.
Lay bet
The opposite of a buy bet, and similar to a place-lose bet, plus 5% commission. The casino's advantage for 6 and 8 is 0.69%. At 5 and 9 the advantage is 0.56% and for 4 and 10 it is 0.42%. In this situation it is also better go for a place-lose bet at 6 and 8, and a lay bet for the other throws.
Big 6 and 8
These bets lose if a 7 is thrown, and win at every thrown 6 and 8. It is best to not place these bets, because you can do a place bet on the same numbers, against better odds. In the big 6 and 8 the casino has an advantage of 2.78%.
Hard way bet
These bets lose if a 7 is thrown, or if the number is thrown the easy way. So an 8 (4+4) loses at a prior 7, or, for example (6+2). These kind of rolls are rare, so they pay out well! The house's advantage is not even that bad. Only 1.39%, so you can give it a try.
Special bets (horn bet, any 7 bet, etcetera)
All special bets, like any craps, any 11, or any 7 have huge advantages for the casino. They pay out handsomely if you win, but you will probably not win often enough to make it profitable in the long run. No well thinking craps player would bet on these! The house's advantages vary from 5.56% for horn bets, to a staggering 16.67% for the any 7 bet. Again, stay away from these craps strategies!
Field bets
The odds of throwing a 2,3,4,9,10,11 or 12 are quite big. So the payout is only 1:1. Unless a 2 or 12 is thrown, the payout will be 2:1 then. The total advantage of the house is 2.78%.
Craps Strategy Summarized
The best Craps strategy? Simply make sure you get the best odds possible. This means you will have to go against the regular way of playing (against everyone else;), and bet on don't pass and/or don't come. And don't forget to bet the maximum on side-bets 'chance' or 'odds'.
Playing in a real casino and don't want to make enemies when you win and everyone else loses? Behave and bet on regular pass and come bets. But make sure to maximize your side bet chances too!
If you think this Craps strategy is somewhat boring, you can always use different craps tactics. Bet some money on an option with a high payout. A bet on big 6 and 8 is pretty okay, and does add a little extra excitement to the game. But never ever bet on the special bets, like any 7 or any craps. The house's advantage is way too big in these bets! You might as well burn your money right away!
Need more tips?
You've read the rules and strategy info, and now you're ready for a nice game of Craps. Hold on: check out our Craps tips and tricks first! To make sure you completely master the Craps game!