Great.com has launched the initiative, "iGaming for future", with the goal of uniting the gambling industry to make a positive impact on society. Let's make a difference!
Through our partnership, we are preventing malaria from spreading. More than 625,000 people die each year from malaria, which is transmitted by mosquitoes. The disease kills pregnant women worldwide to the tune of 70% of all children under 5.
Due to this collaboration, enough money was raised and donated to buy and distribute 1259 mosquito nets to Kampemda ZdS in the Haut Katanga Province in the Congo. 2267 people will be protected from the deadly mosquitoes.
During the night, people sleep under these nets, and it is during this time that mosquitoes are most dangerous because it is when humans are most vulnerable.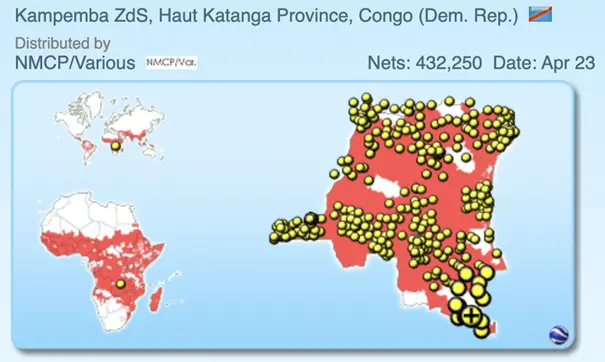 The nets donated are part of these 432 250 nets being distributed in Congo. On the left is shown where Congo is, and on the right where the different deliveries of nets are in Congo itself.
Thank you Great.com for inviting us to be a part of this. It's an honor to help save the lives of children and make the world a better place. We believe in your mission, and we are cheering for you!
About Great.com – Online casino for good
Great.com is an unusual online casino project that aims to make the world a better place. Unlike most casino websites, they focus on the best online casinos in New Jersey and write about casino bonuses, online casino reviews, and different casino games.
In addition to the big casinos, they partner up with affiliates like Tropicana NJ, BetMGM, Unibet and SugarHouse. Since 100% of the profit goes to charity, they are vastly different from other affiliate networks.
They have donated over $4 000 000 together with their founder Erik Bergman to projects like malaria prevention, stopping global warming, and cleaning the oceans of plastic.
Here you can see how the nets from our partnership are delivered.
In addition to educational resources about poker, blackjack, slots, and other gambling topics, they also produce expert reviews of legal online casinos within New Jersey and Sweden.
The online casino reviews inspect and rank casinos in categories ranging from first deposit and sign-up bonuses to customer support and game selection.
If you're looking for an unbiased and educational review of NJ online casinos and legal online casinos in Sweden, then Great.com is the right website for you.
The main goal for great.com is to generate as much money as possible so that they can donate that money to the most influential causes driving the most change in the world.
In addition to their charitable giving, they also host a charity podcast that helps us introduce influential people and great organizations to their listeners so that they can gain more insight into positive initiatives globally.